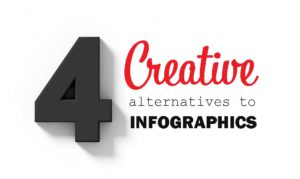 By Ben Heacox
Mastering the art of digital marketing is a daily experiment – getting creative, trying new things and going through trial and error until you win the attention of your target audience. Starting around 2012, infographics became the creative standard for summarizing complex information in an easy-to-share format. After a peak around 2014/2015, many popular sites and publications ceased using these colorful bits of content by 2018.
In October, MOZ posted an article about the decline of the infographic. While they are still one of the most widespread types of engaging content on the web, it seems that industry publications and blogs have started to move on from sharing digital marketers' pre-packaged graphics in favor of… writing stuff?
The inherent ease of an infographic will never totally die out, so this format will probably continue to circulate online. While the traditional, static format for infographics is declining, it's time to start getting creative about how we tell stories with graphic content again!
Here are some awesome content ideas you can use to enhance or replace infographics!
Interactive Content
Most infographics are static. You can move that mouse all you want, but all you'll see when you hover or click is an alt tag. Most digital marketing kiddos know this, but just in case, here's a reminder that most pictures on your screen can move! Maybe you're not a coding master, but there are some free tools online that make creating interactive maps and other graphics easy. Even a simple hover-effect can distinguish your information, winning you a coveted spot on the blog or publication of your choice. When you use motion to make your content more engaging, your information is more likely to get shared.
Quick Surveys
Everyone's a critic, but how often do they get to share what they think? Yes, comments sections are a thing, but unless you're a troll like me, nobody cares what you have to say about my infographic, Debbie! Surveys allow readers to interact with content in a way that provides instant, gratifying feedback. Their voice is instantly included in the content, and the information collected can actually be quite useful. If you're trying to get some backlink creds, invite publishers to participate in a shared survey. Their readers will love it, and you'll love having your name on the data.
Photography
Infographics are meant to be a visual explanation of an idea, so why not try explaining with some real-world visuals? People are used to seeing Google's signature flat, material design all over the web on infographics and UI's. It's time to get crafty! Use some felt and scissors, then take a picture of the real-world version of your infographic online. Use Photoshop to add some text or a background, and you have a graphic that readers and publishers cannot ignore.
GIFs
GIFs are everywhere – I bet you even have a GIF library in your phone's keyboard right now! As animated graphics become more common across digital platforms, using these looping pictures is a simple way to present your information in a way that grabs attention and encourages sharing. Even basic animations that highlight a key takeaway in an infographic or draw attention to your brand will elevate your content to stand out.
Sources:
https://neomam.com/blog/13-equally-engaging-alternatives-to-infographics/
https://moz.com/blog/can-you-still-use-infographics-to-build-links
About the Author
Ben Heacox is a Digital Marketing Specialist at ChoiceLocal, specializing in web development, local SEO, and content creation. Outside of work, you'll find him traveling abroad, trying out a new Thai restaurant, or enjoying the life of a Shiba Inu dad.