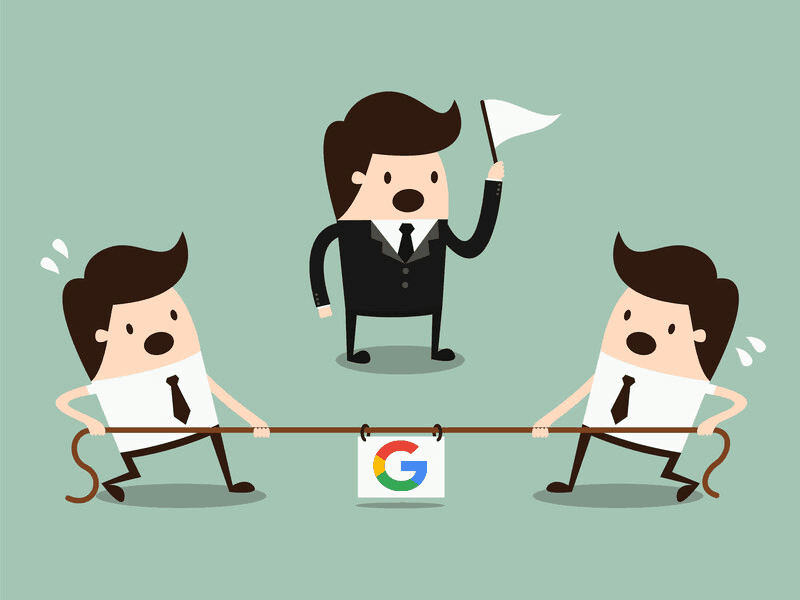 By Rebecca Lima
It can be frustrating to see your competitors show up above your business in the search engine result pages. If you have gone through your SEO basics and are still being outshined by your competition, then sometimes "imitation is the sincerest form of flattery."
But before you get too excited and steal a competitor's content and images and duplicate their site, some ground rules need to be set. Duplicating another site is not what I am referring to here. Having the same content as another local listing can earn you a big penalty from Google. However, identifying who your competitors are and comparing and contrasting with them to identify strengths and weaknesses is one way to improve the quality of your own site.
Although you may have one arch-nemesis, it may be valuable to identify a few other competitors that may be outshining you. You can start identifying about five competitors to focus on. The simplest method would be to search top keywords (use Incognito mode if possible) on Google and get a feel for the results showing up above you organically. I also recommend a tool called LocalFalcon, which will give you insight about your rankings in the Google local pack. There are both free and paid versions of this tool depending on your motivation to drown out the competition.
To complete a Local Falcon search you will type your address into the "Business name" field, select your business, and type in a top keyword in the "Search Keyword" field. I recommend setting the scan radius on the free version to seven miles, as seen in the image below. Next, hit the "Run Search" button and voila! As you can see the pinpoints are different geographical locations around your business and each pinpoint provides your ranking position in Google Maps. This tool provides some great local SEO insights.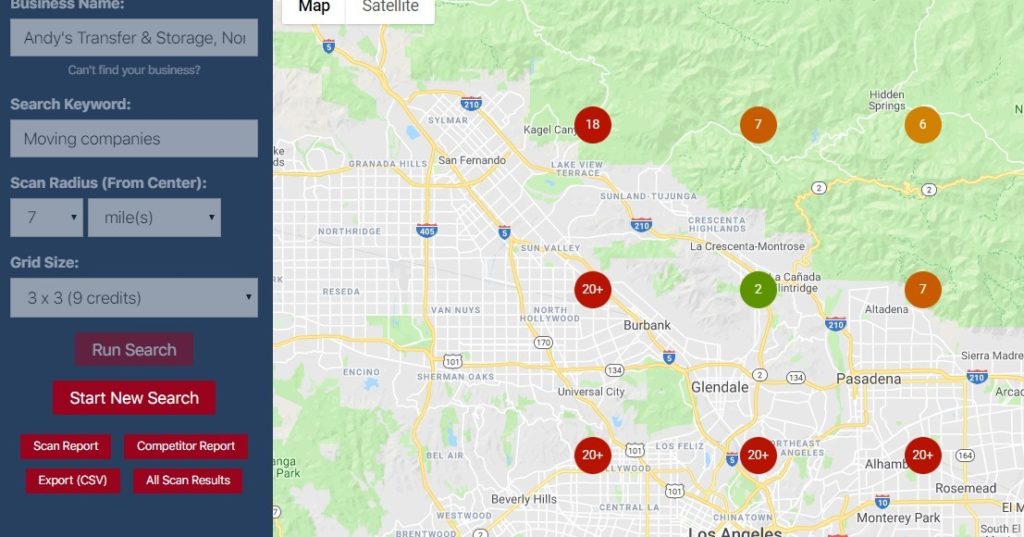 Now that you have run an initial scan, I suggest viewing the "Competitor Report." This report will pull the averages of all the different geographic locations and ranks and will provide a comprehensive list to indicate which companies are appearing above you in your local market. In this instance, our top competitors would be Pure Moving Company, North American Van Lines, OneShotMove, U-Pack and North Star Movers.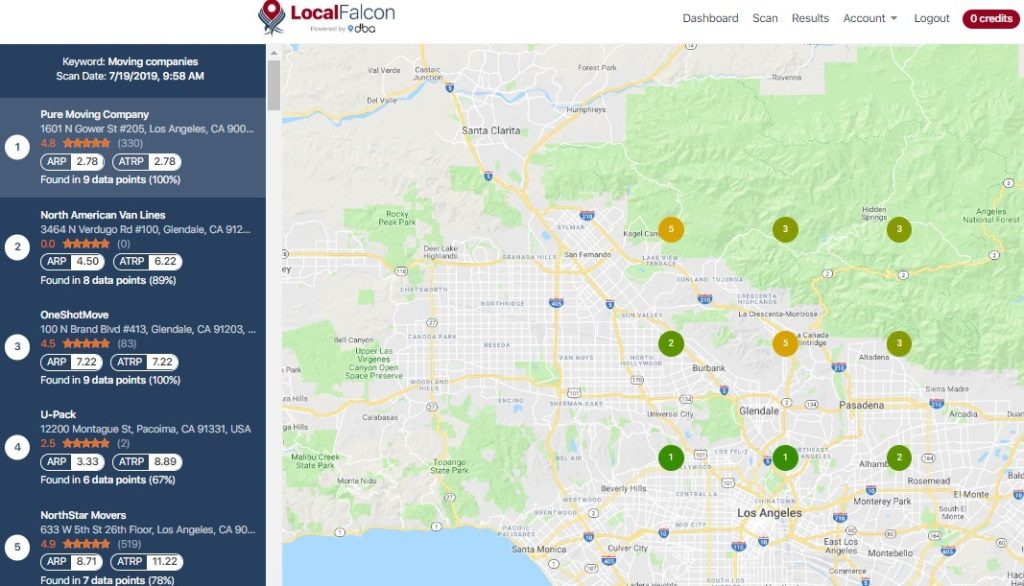 Now that we have identified these competitors, you will want to put your sleuth skills to work. For the beginner level sleuth, start by comparing Google My Business (GMB) listings. When comparing GMB listings be sure to prioritize the number of reviews, review quality, and if they respond to reviews. (Pro Tip: Including keywords in your review responses can boots SEO.) In addition to reviews, look at images. The number of images and image quality can help you identify weaknesses with your own GMB listing. Also ask questions like, "Is their street view of a home/residence? Do they have an image of the exterior of their building? Do they have team photos?" These are all GMB factors which could be helping your competitors outshine you in the Search Engine Results Pages (SERPs) while also giving areas of improvement.
Now, I say this with caution, if you do have a competitor whose GMB looks to be spam or fake, report it to Google. Before you go hog-wild reporting competitors, it is important to only report businesses that actually violating Google GMB Guidelines. Mass reporting any competitors will not work. Google will pick up on your dark intentions and will not assist.
For Intermediate and master Sleuths I recommend taking this a step further. Once you have identified your competitors, create a complete audit or tale comparison of SEO and top industry-specific factors. See the table below. Although there are over 200 SEO factors, I find these as a helpful start based on my clients and SEO experience. Feel free to utilize MOZ's Top SEO Factors or expand on any of these. If this is hurting your brain and is way too much, skip past the tables below.
| | | | |
| --- | --- | --- | --- |
| Top SEO Factors | Your Company | Competitor | Notes |
| Number of GMBs/Physical Locations | 4 | 11 | The number of physical locations plays a big role in SEO efforts. SEO works as a beacon and businesses with multiple GMBs or locations have a larger beacon. |
| Site Speed | 6.1 | 4.7 | Site speed, especially mobile site speed, has become one of the top SEO factors. Learn more. |
| Domain Authority | 34 | 36 | Large national corporations often have great domain authority and this is often why large corporations will push local businesses out of results (in addition to physical locations). Building your link profile can help your domain authority. |
| Average Number of GMB Reviews | 42.25 | 26.9 | Increasing your GMB reviews is a top factor in building trust with Google. |
| Average GMB Star Rating | 4.5 | 4.6 | In addition to the number of reviews, your star rating is also important. Try to keep this between 4.2-4.8 stars. A 5.0 rating seems great, but no company is perfect and I would be cautious about 100, 5 star reviews. |
| Running SEO | Yes | Yes | Does it look like their site is SEO optimized for search terms which will drive results? |
| | | | |
| --- | --- | --- | --- |
| Other Factors | Your Company | Competitor | Notes |
| Local Listing Consistency | Yes | Yes | Consistent Name Phone Number and Address is vital to proper SEO. Its important Google and customers. Confirm you have a clickable phone number in your header and a consistent address in site footer and on contact us page. |
| Structured Location Schema | Yes | No | Extra instructions to Google confirming your name, address and phone number. Learn more about schema. |
| Homepage Form Above Fold | Yes | Yes | Make it easy for customers to find and contact you |
| Number of Service Area Pages or Site Pages | 13 | 50+ | Content is King. Building SEO optimized content and areas served pages can help you expand your SEO beacon without physical addresses. |
I could really turn this into a whole book, but this should be a good baseline for both beginner, intermediate, and master sleuths. Don't feel overwhelmed if your competitor is beating you on multiple fronts. Prioritize these items by biggest SEO Impact and how easy they are to quickly adjust. Depending on your site or business, some of these are relatively quick fixes where others could take large amounts of time resources, and budget. Focus on GMB updates first and slowly work your way through intermediate and advances competitive auditing. These basic tips will help you identify what's working for others and game plan new optimizations!
About the Author
Rebecca Lima is a Senior Account Executive at ChoiceLocal, specializing in search engine optimization. She is most proud of her 97% partner retention rate. Rebecca is in constant pursuit of obscure hobbies including everything from salsa classes to volcano surfing.