By Mark Mandelbaum
ChoiceLocal has a mission far greater than being a top-performing franchise marketing agency, and that mission is to help others. On the morning of Sunday, March 13, along with my dad and a handful of others, we were dedicated to that principle as we cooked lunch for the Ronald McDonald House Charities of Central Ohio.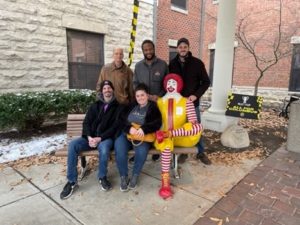 The Ronald McDonald House we went to is isn't in Cleveland, but in Columbus, OH near the downtown area and happens to be one of the largest locations in the world. This location has been in business for 40 years and is a place for families to take time to rest with their children.
The organization operates as a non-profit, but McDonald's is their largest corporate donor. Donations also come from Nationwide Children's Hospital, Ohio State University Buckeyes, Columbus Blue Jackets, Columbus Crew, and many other local organizations.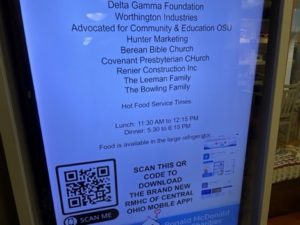 The night before, we all chipped in and bought in bulk some sauce, pasta, meat, garlic spread, and garlic bread from a local supermarket. We met outside in the parking lot of the building around 10 am the next morning and then got right to work!
After we checked in and put on our masks and gloves, we started prepping the meal. Outside the kitchen on a white, flashing, electronic display was our group name, "The Bowling Family."  This group is coined that because most of us have met through bowling together in various leagues and enjoy each other's company in the many activities we do. This was our first volunteering experience together, but it was very well coordinated and brought us closer together.
Everyone volunteering had a task assigned to them so we were able to have everything ready and able to serve on time for the residents. Our goal was to make sure that we put a smile on the faces of the people we served, and we did that in spades! The love we received for sacrificing a small amount of time on a Sunday morning made the experience even more satisfying. Seeing the need in the community is powerful, and it is remarkable to see people coming together for a purpose.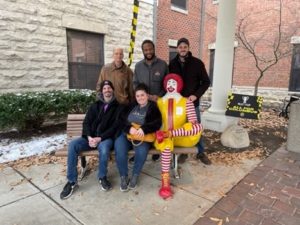 The day ended with a tour that went from room to room by Mike, a long-tenured volunteer. Our group shared the photos on social media afterward and our tour guide was pleased as indicated by the comment, "Great group and they made a really, good lunch. I enjoyed giving them a tour and looking forward to their next visit."
It was a wonderful experience that I recommend to others. The staff was extremely helpful, and I look forward to serving my next meal at the Ronald McDonald House!
About ChoiceLocal
ChoiceLocal is a franchise marketing agency that is dedicated to leading a purpose-driven business as the first and only franchise marketing agency with a money-back guarantee. This has led to successful partnerships with more than 50 franchise brands and a spot on Inc. 5000 fastest-growing companies. The core values are driven not only by the digital marketing work that is done but reflected in each person that becomes a teammate. Teammates are volunteering in their local communities every quarter and making a difference to those around them. Named a top workplace for four years straight, ChoiceLocal is dedicated to making the lives of all those it's involved with better.