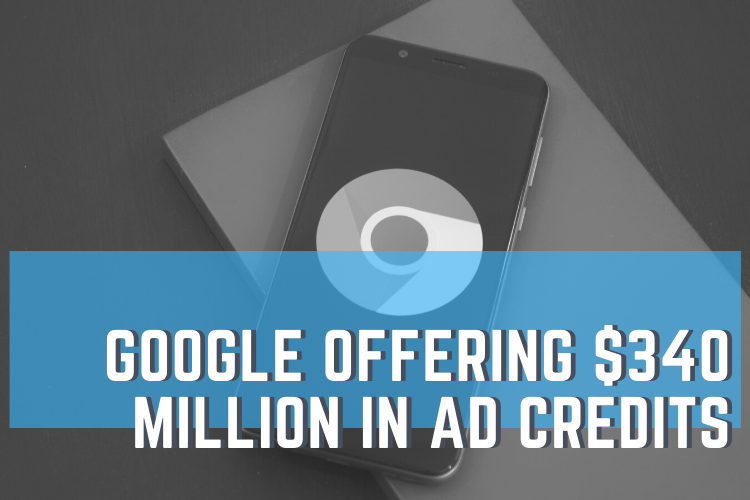 Google Ad Credits Breakdown
By Brittany Piper
Google has announced that it will be giving $340 million in ad credits to small and medium-sized businesses worldwide. According to Google, an advertiser must have been active since January 1st of 2019 to qualify. At ChoiceLocal, we interpret this as an account that was created on or before January of 2019 with active monthly ad spend through March of 2020. Google representatives, articles and general support have been vague on the details, but this is what we do know:
Ad credits will be given to accounts that have been active over the past year
An undetermined amount of credits will appear in the account over the next couple of months
Accounts that receive credit will have a notification alert
Credits will be available to use before 2020

This is NOT a refund
Unused credits will be removed after December 31st of 2020
The fine print of who is eligible:
Credits will be provided to SMB advertisers that have been active advertisers since January 1st of 2019 and comply with all Google Ads T&Cs
What to Do with Ad Credits
A lot of advertisers are cutting spend on their PPC campaigns, since it traditionally has a turn on/off reputation and is thought of as a quick way to save funds without losing the momentum of other marketing campaigns, like SEO. But it is important to remember: even if your business is being affected by COVID-19, there are still active searchers right now looking for your services even if they don't plan on engaging in them until after we are on the downward curve of this pandemic crisis.
This is the time to capitalize on the decreased competition and use credits or continued spend to beat out the competition and start nurturing those leads. When they are ready to purchase, you would be top of mind and already have these leads far down the sales funnel. Businesses who stay steady will bounce back with leads in their sales funnels while the competition is scrambling to turn campaigns back on.
What Is ChoiceLocal Doing to Help Their Partners?
We are focused on delivering our partners stellar results and generate new business for them, even during this crisis. A few things we are doing for our partners that others can benefit from:
Analyzing search terms at a faster pace and removing irrelevant new search trends that are appearing nationwide
Emphasizing services not effected by shelter-in-place orders that consumers may not realize have been deemed essential
Adding language on how a consumer can connect with you or benefit from your product/services that does not promote a fear tactic
If you can offer virtual assessments, delivery or curbside pick-up, any new way of providing services, we will make sure that is known to customers
Ensuring that the leads coming in will be followed up with frequently as we move through the next weeks and as shelter-in-place orders scale back
Offering incentives, discounts, vouchers or gift cards to continue to bring in business for our partners
Facebook Grants
Facebook has also announced 100M in cash grants for up to 30,000 advertisers. This will be something you can apply to when the application process becomes available. No further detail has been given at this time.
Resources:
Message from CEO Sundar Pichai
Google Ads FAQ's Around COVID-19 Ad Credits
(This article will continually be updated as the primary source of information)
https://www.facebook.com/business/boost/grants
About the Author:
Brittany Piper has been in the digital advertising industry for 10 years. She has been with ChoiceLocal for over three years, leading the paid advertising strategy and franchise marketing. She enjoys watching superhero movies with her husband and long walks with their two dogs.