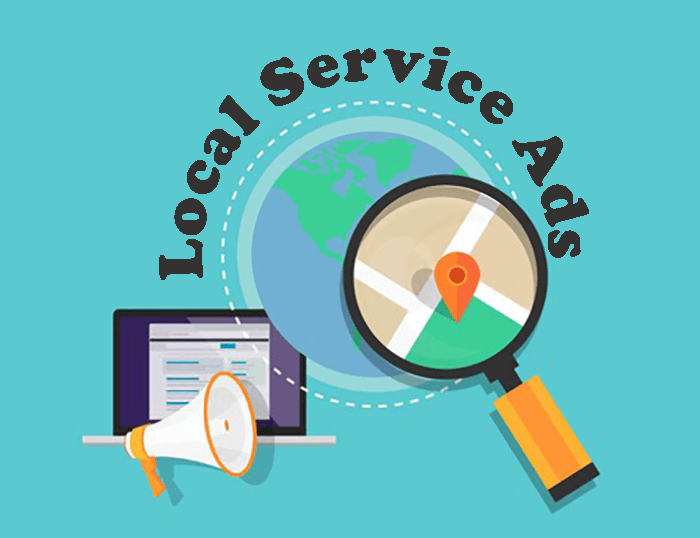 By Devin Calori
Local service ads are one of Google's newest search offerings for 2019. If you're in need of a local service such as a mover, locksmith, or plumber you might not have the time to read through all the text-based ads, fill out a lead generation form, or call a number hoping someone is there to help you immediately. Googles local service ads fix all the above issues for local business owners.
With local service ads you will see the most trusted professionals positioned right above the paid search ads that you are normally accustomed to. However, the difference here is that you will see their reviews, areas served, phone number, and operating hours all in one place, making it easy for you the consumer to pick a reputable company.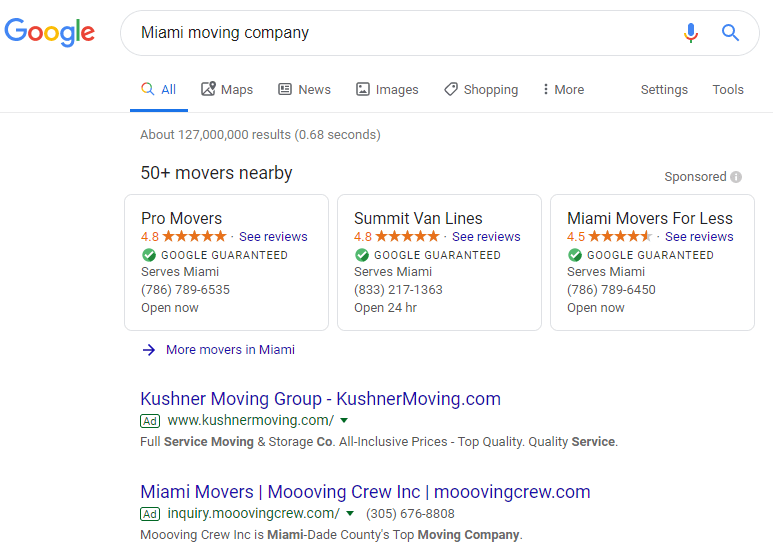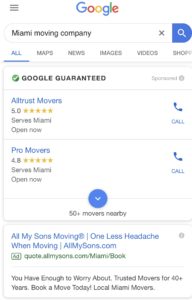 Businesses with the "Google Guaranteed" badge underneath their name have paid Google to appear in the results, are screened, and are guaranteed to get the job done right. Those without the "Google Guaranteed" badge appear behind the paid listings, are less extensively screened, do not pay to appear, and are not guaranteed by Google. Businesses that want the "Google Guaranteed" badge must pass a background check and provide their certified business licenses upon signing up. Most local service ads are paid for and have the "Google Guaranteed" badge however there are still ways to obtain a free listing.
Unlike normal paid search ads, the advertiser does not pay per click, they instead pay per lead. Also, advertisers do not bid on keywords. Instead Google shows your ad if it falls underneath a relevant local service ads category such as moving or lawn care. A business's rank is dependent upon its review score, number of reviews they have received, proximity to potential customers location, and business hours. You will manage your budget by raising or lowering your average weekly budget. Google may spend slightly less or more than your weekly budget in any given week, but it will never exceed the maximum budget you decide to set. Leads can cost anywhere from $3 for a Locksmith in Buffalo, NY to $48 for a moving company in Reno, NV.
User Experience
Upon clicking on a local service ad, the user will be prompted to call or message the business. They will also be given an overview regarding the types of services they offer, service area, business hours, and information about Google's background/license check. The business can also choose to provide a brief business bio along with photos displaying their company. Below the business overview section is where the user can read the company's reviews.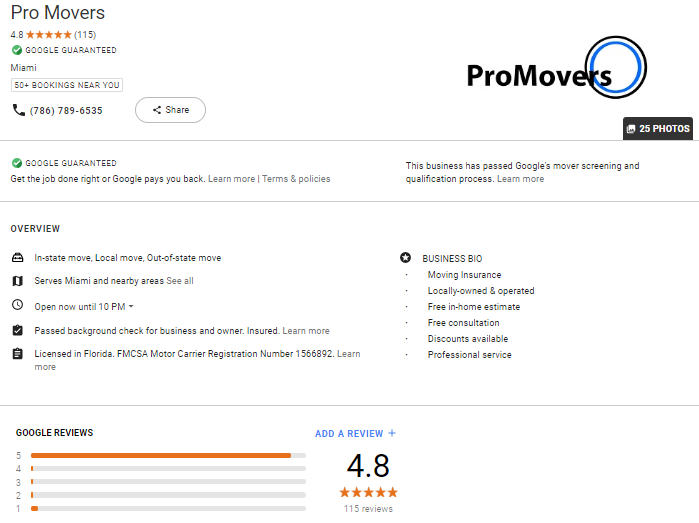 Local Service Industries and Regions Available
As of today, Google supports the following industries for local service ads:
Air Duct Cleaning
Appliance Repair
Auto Glass
Car Repair
Carpet Cleaning
Electricians
Estate Lawyers
Event Planning
Financial Planners
Garage Door Installation
Handyman
House Cleaning
HVAC
Immigration Lawyers
Junk Removal
Lawn Care
Locksmiths
Moving Services
Painting
Pest Control
Pet Boarding
Pet Grooming
Photography
Plumbers
Real Estate Agents
Roadside Assistance
Roofing
Tree Services
Tutoring
Upholstery Cleaning
Water Damage Restoration
Window Cleaning
Window Repair
*Services above might not be available in all territories
Not all regions across the United States have local service ads available. However, most large metropolitan areas across the nation have local service ads available. Google is continually adding more cities/regions to expand its coverage. Below is an extensive list of which local service industries are available in which cities.
*This list may not reflect the most recent additions to Google's Local Service Ads coverage. Google does not announce new additions to this list.
Should My Business Set Up Local Service Ads?
If your city supports local service ads and your business falls under one of the local service categories above, it is worth signing up. Local service ads allow your business to show up above the paid search ads and the organic listings at a relatively low cost per lead. Even if your business determines that the program is not a good fit amongst your other marketing efforts paused local service ads may still show up as free listings.
About the Author
Devin Calori is a Digital Advertising Team Lead at ChoiceLocal specializing in Google, Microsoft, and Facebook ads. Outside of being passionate about all things digital he loves to attend EDM and rock concerts, play volleyball, and is determined to try any and all brands of sparkling water.
References:
https://support.google.com/google-ads/topic/6224863?hl=en
https://www.brightlocal.com/blog/google-local-service-ads/
https://www.wordstream.com/blog/ws/2018/06/11/google-local-service-ads
https://datastudio.google.com/reporting/1WQvP7NmSFpbehXyE-Ysf-84p6tT0z5Lx/page/uy8U