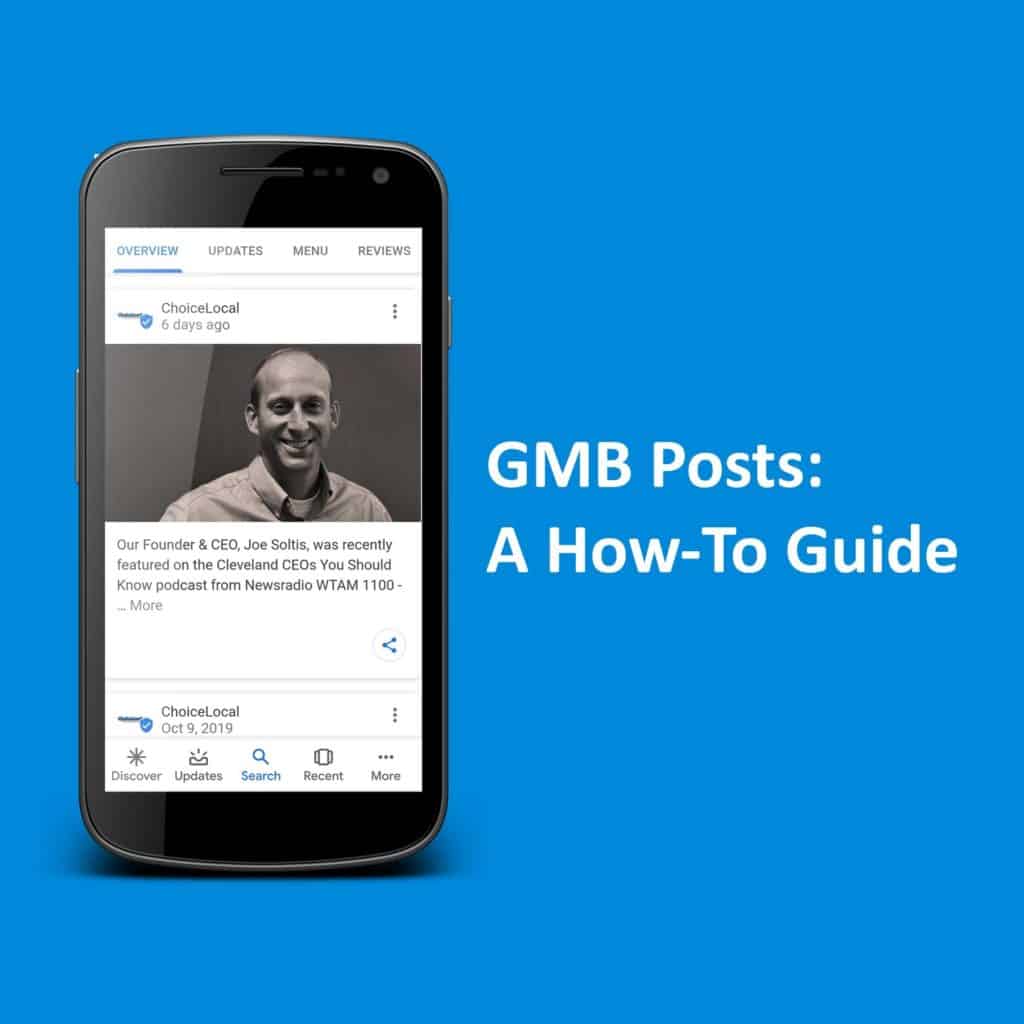 By Victoria Lind
Google rolled out a feature to publish posts on Google My Business (GMB) profiles in June 2017. These posts allow profile owners to create a message up to 1,500 characters that include a call to action (encouraging users to visit a website, click to call, schedule an appointment, register for an event and more) and either a photo or video.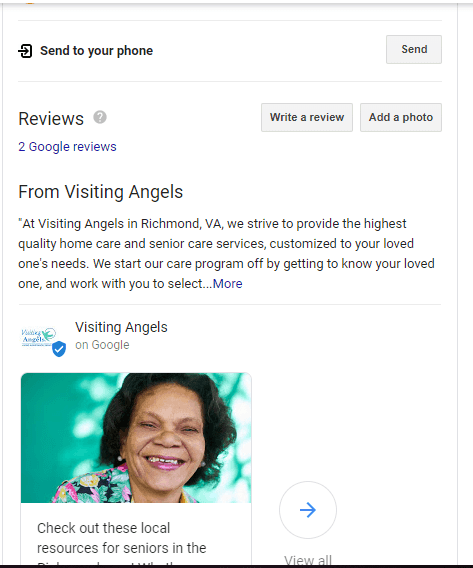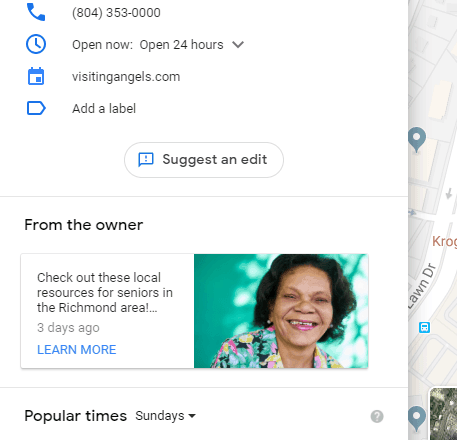 Once you've created a Post, it'll display on your business' knowledge panel or on your Maps listing. Posts will stay live for up to seven days (Event and Offer posts will stay live until the event is over); after that, users will be able to see your Posts by clicking on them and going through your Post history.
If you've already created, claimed, and optimized your GMB profile, you should definitely take this opportunity for free and easy advertising and encourage users to check out your business.
Here are just some of the many ways you can use GMB Posts to your advantage:
Are you rolling out a new product or service? Make a Post to let users know or include a URL in the call to action to direct users to your new product or service.
Are you holding an event? Make an Event post to advertise it with a call to action that lets people indicate if they're going.
Did you recently make a new video or blog for your business? Create a Post with a link to your new content (you can even include the video in the Post.)
Is there a sale going on? Use the Offers post to let your customers know.
Do you want to set your business apart from the competition? Write a post to let potential customers know why you're the best around.
Now that you know how you can use GMB Posts, it's time to figure out how to use them wisely. Since everyone with a claimed GMB profile can use this, it's important to make sure your Posts stand out and entice people to click. But how can you make sure that your Posts are snazzy enough to make people click?
How Can I Make Awesome GMB Posts?
You have a lot to work with when making Posts. What will you write? What photos will you use? What's the best call to action?
By following these tips, you can make an impactful GMB Post that will get you clicks and traffic in no time:
Make Your Posts Short, Sweet, and to the Point
Even though you can use up to 1,500 characters in a Post, it's actually better to do more with less. Not only does Google recommend 150-300 characters as the ideal length, only the first 100 characters will show up in the Post preview.
These first 100 characters are prime real estate, so use them to create a message that inspires people to act. Use your remaining characters to include necessary details (What does your new product do? Where is the event being held? What products are being discounted and by how much?) and create a clear call to action. Use a more conversational tone when writing your Post; after all, this is a chance to "speak" to your customers! You should try to include keywords toward the front of the Post, but you should make sure your keywords are used organically and it doesn't look like you're trying to stuff keywords into your Post. This will help users know what you're posting about, why it's relevant to them, and what they need to do.
Use the Right Call to Action
Every Post (except Offer, Event and Product posts) will also allow you to add a call to action button. This button can direct users to a specific web page or be used as a click to call. Some of the calls to action that are available include:
Book
Order online
Buy
Learn more
Sign up
Call now
Make sure to use the appropriate button based on what you want users to do. For example, if you're showing off a new video or post, you should use the Learn More button to link to your new blog or video. The Buy and Order Online buttons are great for Posts about new products on your website.
Use High-Quality, Eye-Catching Photos and Videos
It's not enough to just include a message; you also need to make sure you're including a relevant photo or video in the Post.
You should always use high-resolution photos to make your Posts stand out. Photos should be larger than 400px x 300px; a 750px x 750px photo is ideal. The image should also be vibrant and centered so it still stands out even if it gets cropped. If your photo contains text, either make sure the text is centered or avoid using photos with text as the text can get cropped and become hard to read.
For videos, make sure the file size is under 100 MB and in one of the following formats:
AVI
MP4
MOV
FLV
WMV
MPG
M4V
MKV
M2TS
MTS
You may need to compress or convert your video into an accepted format if it's too large or in a format that's not accepted.
By using photos and videos, you can give your Posts that extra "wow" factor that encourages people to learn more.
Post Often
As previously mentioned, Posts only stay live on your GMB profile for up to seven days. If you want to continually reach out to customers and maximize your impact, it's important to post on a regular basis.
Create a Post schedule where you're posting at least once a week. Be sure to plan out your message, what call to action you plan on using, and any photos or videos you want to use.
Creating themed photos around specific days of the year is also a great way to stay relevant and create a human touch that customers will appreciate. Wish your customers happy holidays during the winter months or promote a special deal on Independence Day.
How Can I Make Sure My Posts Are Doing Well?
Now that you've started making Posts, you're probably wondering how you can find out if users are clicking on them. There are a couple of ways to monitor your performance.
Google My Business Dashboard
A simple way to check how your Posts are doing is right through the GMB dashboard. In the Posts section, you'll be able to see how many people have viewed your Post and clicked on the button.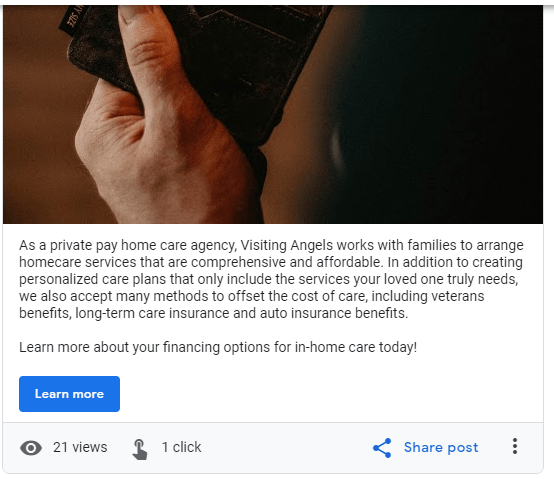 The information on the GMB dashboard is somewhat limited. However, there is one other way to get more detailed results.
Google Analytics
If your Post links out to a page on your website and you've got Google Analytics set up, you can use Analytics data to get more in-depth information on how customers are interacting with your Posts. The problem is that there currently isn't a way to naturally integrate data from Posts in Analytics, so you won't be able to tell if people are going to that URL through your Posts or through other means.
This issue can be easily resolved by creating a custom URL to use for the call to action. This URL will show up as a landing page URL in your Analytics data, allowing you to see more information about the customers who click on your Posts.
If you're looking for a fast, easy a free way to advertise online, GMB Posts are definitely the way to go. As Google experiments with different ways to display Posts (such as using a carousel view in mobile search results and showing Posts that are relevant to search queries), GMB Posts could become more prominent over time, giving you a great avenue to reach out to current and potential customers. By following these tips on making good Posts, you'll be able to use this feature to your advantage and easily grab people's attention.
Happy posting!
About the Author
Victoria Lind is a Digital Marketing Specialist at ChoiceLocal. Outside of the office, she enjoys playing with her cats, watching TV, and playing video games.