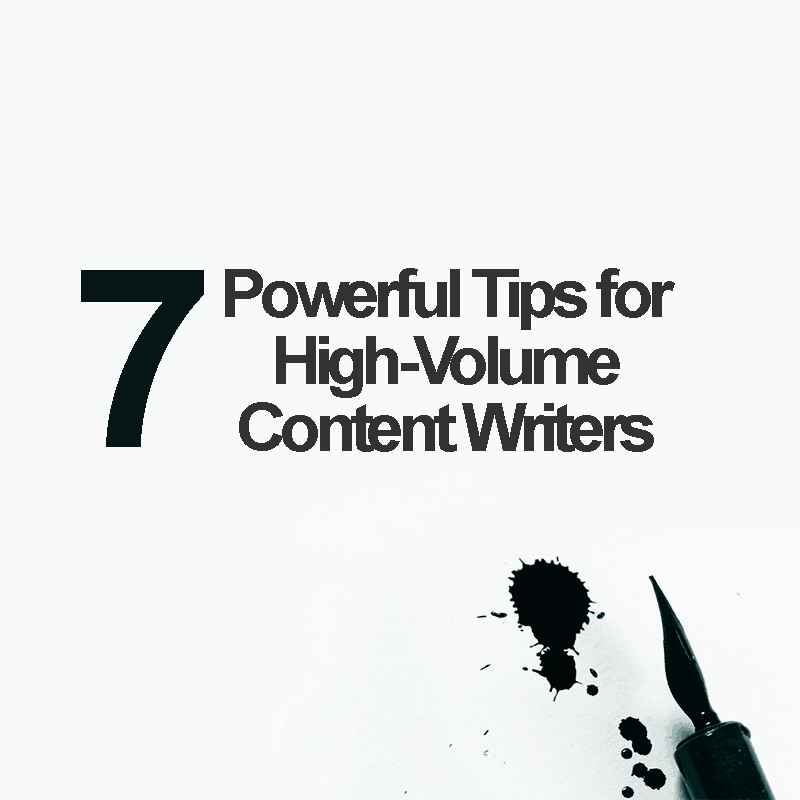 By Ben Heacox
In 1613, London publisher Baker Book House filled an order for 1,000 Bibles for King Charles I — a daunting feat for the manual typesetting of the day!
The 1,200 pages of copy/paste duped content were printing nicely, until they go to the Ten Commandments.
Commandment #7 — "Thou shalt commit adultery."
And with that tiny missing "not," King Charles had all 1,000 Wicked Books burned, sinners everywhere lamented, the original typo was recorded in Copywriter Genesis, and publisher anxiety was born.
Fast-forward to the life of a modern digital content writer. The internet has way more than 1,200 pages, Grammarly doesn't proof for holiness, and the anxiety is still so real.
If you're a high-volume content writer like me, you probably have to produce tons of original copy. That can get really exhausting, and tired copywriters make mistakes.
The worst part?
Even the most seasoned writer or editor has a tendency to miss typos in their own work.
But, fret not, my fellow content lovers! Everyone goes through ruts where they simply cannot write their words good. So, if you're starting to spell "forty" as "fourty" or just wrote that your client in Cleveland, OH is located in Cairo, here are seven powerful tips to help you power through copywriter burnout and create a Bible's worth of sin-free content.
Don't Proof Your Own Work
Most modern content writers do it all — brainstorm topics, create graphics, write in various styles, set their own deadlines, proof their own articles, and even publish their final drafts.
Tech empowers everyone to be their own authors, journalists, and publishers, but sometimes, just because you can do it all doesn't mean that you should.
What does that mean for you?
One of the best pieces of advice I can offer someone who's starting to get flagged for errors in their work is to stop trying to do it all and ask for help with proofreading. Your personal editor may not have a degree in English or journalism, but an extra set of eyes can help you catch the obvious mistakes you've stopped thinking about and identify patterns that you can start noticing on your own.
Don't Depend on Creativity
Most professionals who write for a living are aware when their "creative wave" hits, and some of the best quality and most grammatically refinedcontent you'll ever write hits during that wave.
This wave never lasts, though, and the copywriting schedule isn't going to wait for a Malibu point break to set sail.
Love it or hate it, you must produce an excellent final product whether you're "feelin' it" or not.
So, what now?
Learn to Harness the Creative Wave
While your content writing deadlines may not always align with your creative energy, you should always use your creativity somehow.
Here's what you can do if you are suddenly bitten by the writing bug…
Proofread Something. That same energy that helps you write amazing things can help you edit amazing things.
Make a Calendar. Scheduling content ideas you feel good about now means you won't feel so drained when you write them later.
Work Ahead Always. Don't have anything due? Start working on something for next week, next month, or even next year.
Need some inspiration now? Check out this list of free content brainstorming tools.
Give Your Talent a Workout
Diagram a sentence. Take a spelling test. Play Words With Friends. Buy a grammar workbook.
Doing some writing-related workouts can help snap you out of your burned-out state and back into the wordy professional you were born to be.
Get Grammarly
No, Grammarly did not pay me to write this.
It's just a lifesaver.
No matter how confident you are in your grammatical aptitude, you will make silly mistakes. Grammarly is a free plugin that catches more spelling and grammar blunders than a normal spellcheck, and it can learn some of your bad habits, too.
You can download the Chrome version here.
Pro Tip: Grammarly is NOT perfect. Don't take every recommendation, especially if you write in AP Style.
Practice
Writing for the web is weird. It breaks almost every style rule, yet impactful website copy has evolving sets of style guides and best practices.
You need to keep practicing.
You should be writing original content every week, and if your nine-to-five doesn't offer that type of work, consider starting your own blog, taking on a small freelance contract, or starting a creative writing project.
Sometimes, the best cure for a burned-out copywriter is to stretch your bandwidth until it grows.
Stay Confident
Nervous writing means more mistakes. You cannot afford to give up your copywriting swagger just because you're human.
Don't beat yourself up over typos. They happen to everyone, so spot them, fix them, and move on fast.
So, back to Baker Book House.
Robert Baker never bounced back from his publishing company's adulterous commandments typo, and later in his career, a second Bible typo would bankrupt the operation and land him in prison.
Some may take his demise as a lesson about the danger of the draconian governments that burn things they don't like, but there's also a pivotal lesson here for 21st century writers.
Today's web writers can make mistakes, learn from them and will have many opportunities to get better. No matter how burned out you're feeling, don't take that for granted!
Keep Calm and Type On.
About the Author
Ben Heacox is a Digital Marketing Specialist at ChoiceLocal, specializing in web development, local SEO, and content creation. Outside of work, you'll find him traveling abroad, trying out a new Thai restaurant, and enjoying the life of a Shiba Inu dad.