To Win at the Global Level, Brands Must Win at the Local Level!
By Patricia T.
Franchise marketing on a national and international scale is a multi-faceted endeavor. From franchisors actively managing the brand and providing national coverage to franchisees managing local budgets and providing "feet on the street" there are a lot of moving parts. Toss in a digital marketing agency to assist at the national and/or owner level, now we are talking multi-faceted!
The following infographic emphasizes the importance of hyper-local digital content amplifying and supplementing marketing at the national level. The power of the franchise model lies within the benefit of LOCAL businesses.  Franchisees are local and their customers are local. Coordinate national and local marketing and you have a recipe to maximize and capture market share!
For franchise systems to succeed, they need an often hard-to-find agency partner: a firm with proven digital expertise, B2C/B2B experience, and the ability to scale. ChoiceLocal's entire business model and existence revolve around fueling the growth of our franchise partners (23 networks at the time of this publication).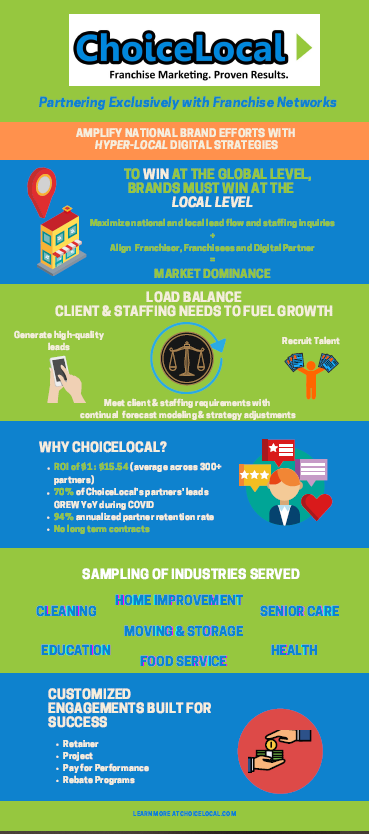 To download this Hyper Local Infographic please click here!
About the Author:
Patricia is what some would call a digital "veteran."  Her sales and marketing career started in the early 90s when she showed 1,000+ people the internet for the first time.  Google hit the scene in 2004, and Patricia helped organizations capture market share with Search Marketing.  Fast forward to today's technology-driven society, you will find Patricia helping franchisors and franchisees achieve their growth goals. When Patricia is not doing the work she loves, you can find her boating, fishing, and swimming on Lake St. Clair (Michigan).