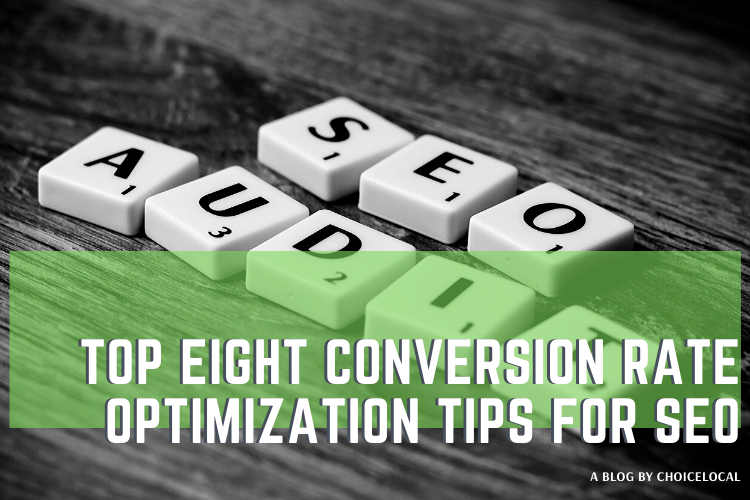 By Rebecca Lima
Are You Having Trouble Converting Visitors into Leads? 
Getting the most out of your website doesn't always mean showing up at the top of the results page. Search Engine Optimization (SEO) helps businesses become more visible to potential customers, but this is just one step in a customer's journey. Once they visit your site, you still need to lure those visitors in, capture them and turn them into customers. At the end of the day, it doesn't matter how many visitors are on your site but how many customers you gained from them being there.
To learn how to best optimize your site to convert visitors into customers, look at my eight tips below!
Tip One: Build Trust
First impressions are make or break. Many customers begin their journey searching for a specific need or want on Google which brings them to a results page. If you are ranking high for the keyword they searched, your Google Knowledge Panel may be one of the first things they see about your business. Google Knowledge Panels are vital for converting people into customers as they should have all the information they need about your company: your name, services, business description, reviews, address, website, and phone number.
Most importantly, Google takes your online reputation and posts it out there front and center. Even if you are the first company to appear, if you have three reviews and a two-star rating, but the company below you has 62 reviews and a 4.8-star rating… I'm sorry, Charlie, but they are most likely not even clicking to your website. Not having enough reviews, poor reviews or suspicious reviews can immediately deter potential clients from your business. Reputation management tools and email nurture review campaigns are great for increasing reviews and improving your rating.
Tip Two: Fast Page Speed
Once a customer takes that first glance at your Google Knowledge Panel and decides that you seem a little trustworthy, they click to your website. Yippee! You made it past round one, but you are not in the clear quite yet. Before a customer even looks at your site, they can be affected by the technical foundation of your site, and more specifically your site speed. According to Google, 53% of mobile site visits leave a page that takes longer than three seconds to load. To test your page site speed, click here, and for tips on improving your site speed, click here.
Tip Three: Mobile Responsiveness
Having killer SEO makes you visible online, reviews make you trustworthy, site speed helps you lower your bounce rate and now you need to make sure your site is built for users on any device. You want to make sure that it is just as easy to navigate on other devices (tablets, smartphones, etc.) as it is on desktop. You can test your page here.
Tip Four: Have a Form Above the Fold
All the previous tips cover getting visitors onto your site, but now it's time to turn them into leads by having them submit a form or call in. It may seem obvious, but in my experience, 80% of the businesses I have worked with come to us without a form on their homepage.  The easiest way to get inquiries is to have contact forms readily available.
Tip Five: Have Killer Calls-to-Action
If your first attempt at capture was not successful, try, try again. One form on your homepage is not a catch-all solution. It's a best practice to have a form and a clickable phone number on every single page of your site. If a customer cannot quickly find how to contact you, then you are losing more potential customers to the void.
Tip Six: Know Your Customer
Depending on your industry, the ideal client may differ from business to business. That said, it is important to know your customers. For example:
If most of your customers speak another language, it's probably best to have google translate on your website.
Older individuals are more likely to call or fill out a form, so have that information readily available.
Younger audiences are less inclined to pick up the phone, so a chat feature may be more appealing to them. To learn more about capturing customers with chat features click here.
Tip Seven: Track Your Results
You've done it! Good job capturing visitors and turning them into customers… Now how do you track your success? Google Analytics is tracking 101 and can be very helpful in determining other areas of focus. Many businesses only focus on on-site visits, but Google Analytics is helpful for so much more. In terms of improving conversion rates, Google Analytics Goals or Events are great tools that can help you track the path of a visitor before they called or submitted a form, giving you clues as to what other items you may want to optimize. With Goal and Event tracking, you can look at which traffic sources drive the most calls/form submissions and what pages/calls-to-action have the highest conversion rates.
Tip Eight: Test, Test, Test
Taking all the data from Google Analytics Goals and Events can help you to test out different variations of forms, calls-to-action or content changes to capture even more customers! Be sure to keep testing and updating your site to be as efficient as possible in converting traffic into customers.
Good luck my SEO friends and happy converting!
 About the Author
Rebecca Lima is a Senior Account Executive at ChoiceLocal, specializing in search engine optimization. She is most proud of her 97% partner retention rate. Rebecca is in constant pursuit of obscure hobbies including everything from salsa classes to volcano surfing.