ChoiceLocal Gives Back to Help Others
ChoiceLocal, a franchise marketing agency founded by Joe Soltis in 2014, has an admirable mission to give back to the community and to help children and families in need. By turning pain into purpose, Joe and his wife Becky created the Benjamin Issac Foundation to honor their son, who was lost late into pregnancy. The purpose of the foundation is to provide assistance to children and families in need. ChoiceLocal donates 10 percent of our profits each year to meet our yearly goal of helping 10,000 kids, which is primarily done through the Benjamin Issac Foundation, along with the year-round volunteer work done by our team.
Our Mission is to Help Others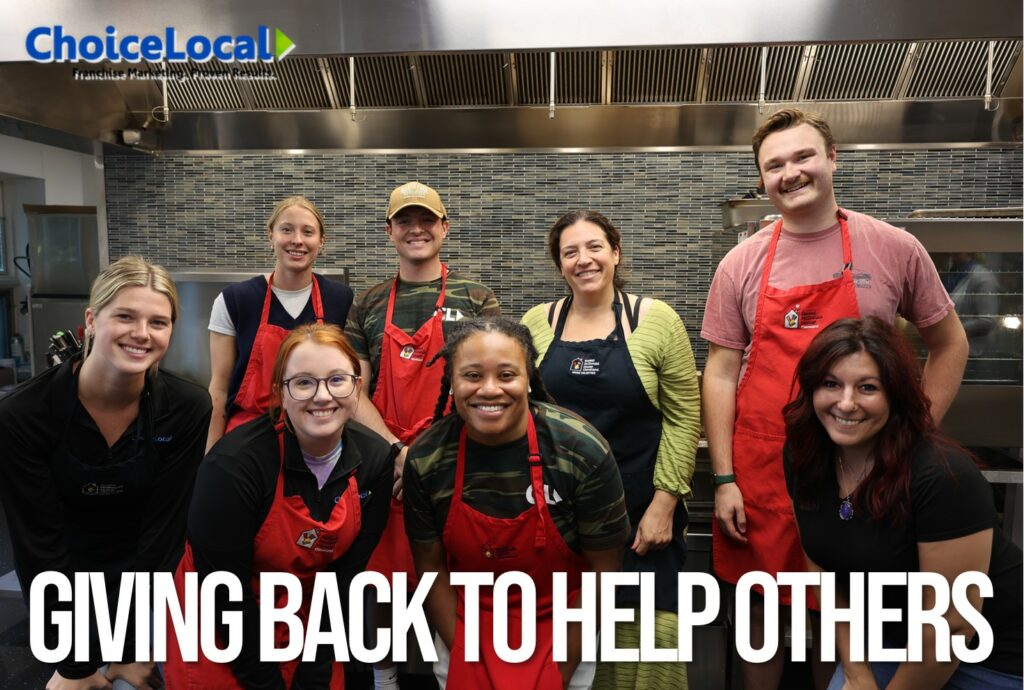 At ChoiceLocal, we believe a strong team culture is essential to success. We have worked hard to create a family-like culture among our team by living our core values.
Our core values include:
Giving
Integrity in All Things
Family
Amazing Customer Service
Candor with Goodwill
Everyone a Leader
Volunteer Opportunities for Our Team
Our company takes pride in providing assistance to our partners in growing their companies, as well as supporting charitable organizations in our community through our commitment to helping others. ChoiceLocal offers volunteering opportunities to our team every quarter and encourages employees to participate during company hours.
This year, we have volunteered with organizations such as:
Helping The Ronald McDonald House of Cleveland Provide Assistance to Sick Children and Their Families
Our team volunteered with the Ronald McDonald House in Cleveland, OH, starting in March and again in August, enjoying the experience both times. The Ronald McDonald House is an organization that provides housing, care, and support for families with sick children receiving treatment at nearby hospitals. Our team has had the opportunity to provide assistance in various ways.
Preparing Dinner
The ChoiceLocal team provided assistance by preparing nutritious and flavorful dinners in the kitchen. We collaborated with their Restaurant Manager, Ray Flanagan, throughout the entire process, from preparation to cleanup, to ensure that a warm meal would be available to every family that wanted one.
Hosting Community Hour
We also engage in activities such as playing games and crafting with children and their families. During our most recent visit to the Ronald McDonald House, our team organized a game of BINGO and brought a selection of board games to share. This was a great way to provide a fun evening for families staying at the Ronald McDonald House.
Collecting Pull Tabs
Our latest method of supporting the Ronald McDonald House involves collecting pull tabs. The ChoiceLocal team will be collecting tabs throughout the year as part of an ongoing effort. The Ronald McDonald House collects pull tabs and works with a local recycler to turn those tabs into money for their Family Fund, which goes towards all the programs they provide.
The work we were able to do with the Ronald McDonald House and the several other organizations we have worked with throughout the year has been so gratifying. We are so proud of our team for all they do to give back to their communities and help others.
About ChoiceLocal
ChoiceLocal is a franchise marketing agency dedicated to leading a purpose-driven business as the first and only franchise marketing agency with a money-back guarantee. This has led to successful partnerships with over 50 franchise brands and a spot on the Inc. 5000 fastest-growing companies. Our core values are driven not only by the digital marketing work that is done but reflected by each person who becomes a teammate; we volunteer in our local communities every quarter and make a difference to those around us. Named a top workplace for four years straight, ChoiceLocal is dedicated to making the lives of everyone we are involved with better.