ChoiceLocal Named Top Franchise Marketing Firm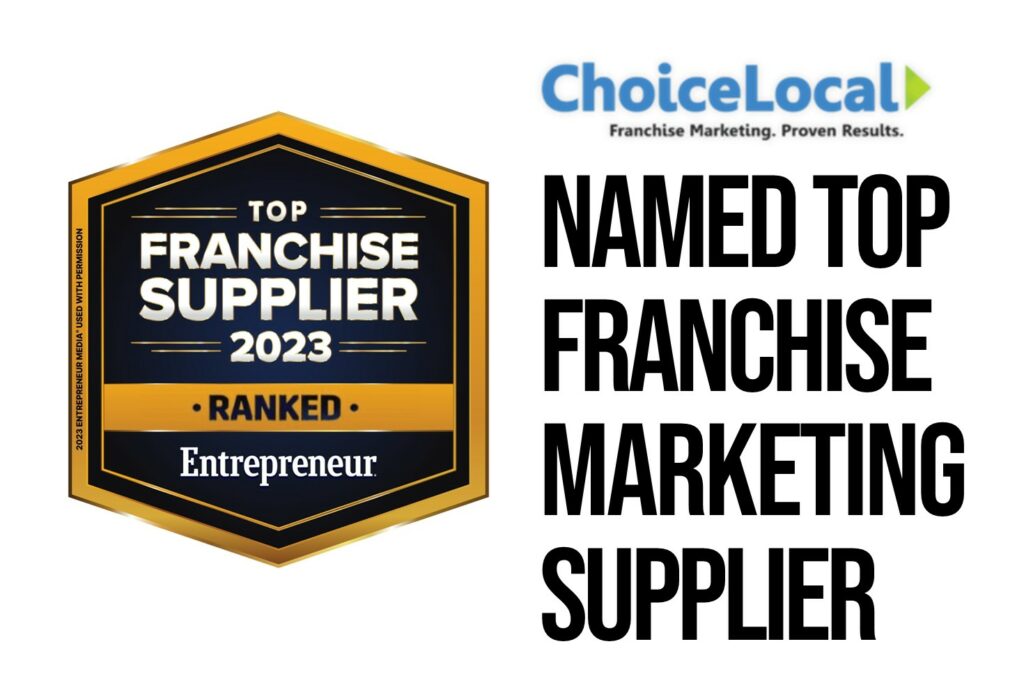 Anytime one receives an award, it's a profound affirmation of dedication and accomplishments. It provides a warm and gratifying sense of validation. It signifies that others have acknowledged and celebrated your efforts and talents.
ChoiceLocal is excited to announce our recognition as a top franchise supplier by Entrepreneur Magazine for 2023. This prestigious honor reaffirms our position as a leading player in franchise marketing and the meaningful work we're lucky to provide for small business owners across North America. We're thrilled to have become a leading franchise marketing firm.
Interpreting the ranking
This was no small survey. Entrepreneur Magazine talked to more than 1,000 franchisors to establish its annual ranking of Top Franchise Suppliers. Its survey was presented to both budding companies and established brands, asking each to discuss which service providers they and their franchisees use. They also rated their overall satisfaction based on quality, cost, and overall value of services. Each supplier was scored, and the top-scoring suppliers in each of the 11 categories made it into the ranking.
What it means
To be sure, this recognition motivates our team for further excellence and perseverance. After all, awards often serve as a symbol of hard work and commitment, instilling a sense of pride and accomplishment. But we're also hopeful because this Entrepreneur Magazine recognition can open doors to new opportunities and connections.
This kind of acknowledgment attracts the attention of peers, professionals, and organizations. It piques the interest of industry leaders, making it easier to network and establish meaningful relationships. In this way, an award is not just a symbol of past success but a bridge to a brighter, more prosperous future.
We're thankful and honored to be a leading franchise marketing firm – and we join in this celebration with all those who helped us get here.
About ChoiceLocal
ChoiceLocal is a franchise marketing agency dedicated to leading a purpose-driven business as the first and only franchise marketing agency with a money-back guarantee. This has led to successful partnerships with over 50 franchise brands and a spot on the Inc. 5000 fastest-growing companies. Our core values are driven not only by the digital marketing work that is done but reflected by each person who becomes a teammate; we volunteer in our local communities every quarter and make a difference to those around us. Named a top workplace for four years straight, ChoiceLocal is dedicated to making the lives of everyone we are involved with better.