What's in a Name? Plenty, When Dealing With Franchising in Marketing
Everyone wants to stand out, get noticed, and be understood. When Joe Soltis set out to create a new digital marketing company in 2014, the name had to encompass all that and more. When working with franchising in marketing, Soltis knew his name should reflect a fundamental truth: local SEO is powerful.
More than a name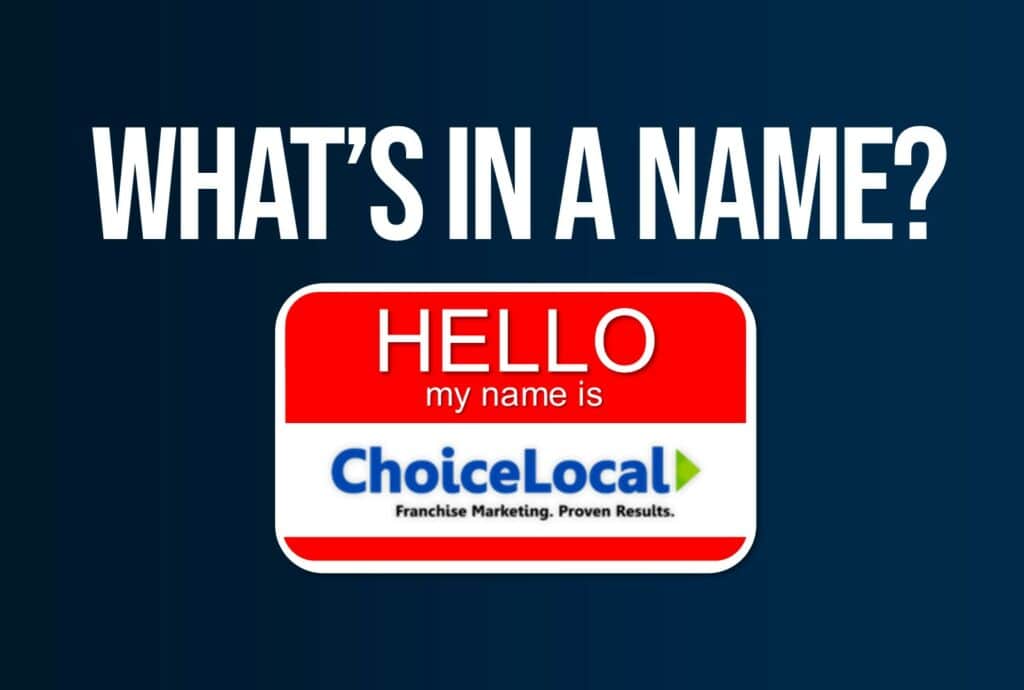 More important than ChoiceLocal's name is its mission to Help Others. This is a purpose-driven company aimed at helping kids in need by helping others succeed. Though we're all given choices in life, we made ours to be focused on helping partners succeed, helping teammates succeed, and donating profits to charity. ChoiceLocal strives to foster a spirit of unity and diversity to respect the giftedness of every person, ensuring that all feel a part of the ChoiceLocal team – essentially, the ChoiceLocal family. For teammates, ChoiceLocal is much more than a company. It is a place to feel welcome and at home.
Your success is our success
As we help franchisors and franchisees in all industries with our proven digital marketing solutions, we back it all up with The ChoiceLocal Guarantee. This ensures partner happiness from day one. Through franchising in marketing, we've achieved success through a team of individuals who genuinely care about the success of their partners and the community around them.
Local is key
Individual franchise owners know they're backed by the power of their national brand. But within the digital marketing world, those local owners need powerful search results from people in their own towns. That means we help businesses with more vital visibility in local search results on Google. We help optimize a locally based landing page and syndicate listings on pages across the web. Our time-tested best practices ensure web content is performing its best.
Different from the start
Soltis knew he was embarking on history in 2014. He wanted to create a different kind of company that works with franchising in marketing because so many franchisees had poor experiences in the past. But Soltis knew his efforts had to be rooted in faith. That's because two years prior, he experienced an awakening after focusing too much on work and not enough on his family. His outlook changed after prayer, reflection, and talking with his wife, Becky. He wanted to ensure that no one working in his new company would work more than 40 hours yet still receive excellent pay and benefits – and allow his clients to thrive in the process.
Innovative franchising in marketing
By adopting an original, efficient, and more innovative marketing model, Soltis helps give business partners fantastic customer service in a way that hasn't been done before in the franchise industry. Through proven business practices, the choice was clear: focusing on local was best.
Amazing customer service
ChoiceLocal makes the dreams and aspirations of client partners and their employees come true by driving massive growth to their businesses and franchise network via verified digital marketing and sales engine strategies. ChoiceLocal also drives talent to partners to help keep up with the growth driven to their business. As a result, new franchisees arrive through our franchise development solutions.
Most importantly, ChoiceLocal gives back to the community by volunteering and donating 10 percent of its profits to help others in need, focusing on helping kids in need and those in need.
The results speak for themselves. Contact ChoiceLocal today.
About ChoiceLocal
ChoiceLocal is a franchise marketing agency dedicated to leading a purpose-driven business as the first and only franchise marketing agency with a money-back guarantee. This has led to successful partnerships with over 50 franchise brands and a spot on the Inc. 5000 fastest-growing companies. Our core values are driven not only by the digital marketing work that is done but reflected by each person who becomes a teammate; we volunteer in our local communities every quarter and make a difference to those around us. Named a top workplace for four years straight, ChoiceLocal is dedicated to making the lives of everyone we are involved with better.