A Chat with Our SEO Director Who Oversees a Digital Marketing Agency for Franchises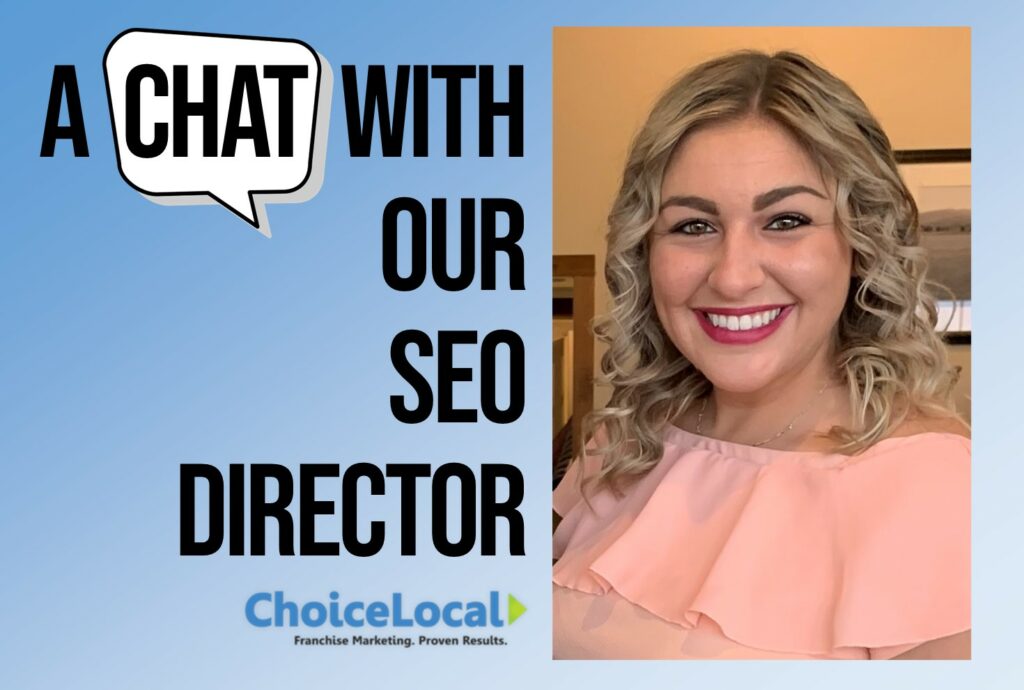 Behind every good SEO program is a director who understands business strategy and objectives. It takes more than content, link building, site speed, and overall optimization. It takes a person who can implement strategies across the board, and in this case, for the top-performing digital marketing agency for franchises.
Heather Gentile, Director of SEO, has worked at ChoiceLocal for four years. She provides market-leading best practice training for a growing SEO team. She also supports senior strategists and their partners to provide top-level results. She knows that building a solid group of SEO experts will provide better strategies for future partners, especially for a firm whose motto is to "Help Others."
We caught up with Heather to talk about the essential topics involving a digital marketing agency for franchises.
What's the most important thing you do as an SEO director?
The most important thing I do as an SEO director is work with my SEO team to build and execute strategies to share with our partners.
What's it like working in franchise marketing SEO vs. other industries?
Most of my experience has been in franchise marketing. I started in marketing over five years ago, but the franchise space is where I have found what I love to do. Every type of industry is going to be different with some similarities in working with clients. Working in the franchise space, we get to work with a ton of different franchisees and help build their business and provide services that are going to help them thrive in the franchise space.
Besides leads and rankings, what are the top requests of clients?
Additional top requests from clients typically will include what we are doing now that AI has taken the world by storm and how we manage that along with search engine requirements.
Has content creation become less of a priority now that you have AI at your disposal?
Content is still a top priority with all search engines, and using AI to assist with content is where it falls the best with continuing to write content. Having AI-written content completely will never appeal to the customer that we are trying to reach or follow all the guidelines that search engines have in place to ensure we are providing helpful content and information to the customers that are searching.
What is the most overrated aspect of SEO work? Underrated?
The most overrated aspect of SEO is clients or customers thinking that SEO is easy and it takes just a few minutes of time or keywords to be ranking instantly after making some changes. The underrated aspect of SEO is that although it's great for long-term goals, it is not something that can be done in an instant and forget about it. You have to continue to make changes and updates to reach long-term goals and success.
Where do you see SEO five years from now?
It's hard to look at SEO in five years when there have been so many changes in the last couple of years. Artificial Intelligence will continue to have a huge impact on search engines and the way customers are searching for topics, goods, services, etc. It will become more important for SEO to be implanted in all the different types of searches, whether paid, organic, or social media, to continue to strive for results and reach the right customers. SEO will still thrive through the next five years, but approaches to SEO will change in that time to work with AI and other tools or updates with search engines.
Heather Gentile, Director of SEO, has worked at ChoiceLocal for four years. She is a Cleveland native and has been raised to cheer on all Cleveland sports teams. When she is not working or learning more about SEO, she is a bookworm and loves to test out new cooking recipes on her husband.
About ChoiceLocal
ChoiceLocal is a franchise marketing agency dedicated to leading a purpose-driven business as the first and only franchise marketing agency with a money-back guarantee. This has led to successful partnerships with over 50 franchise brands and a spot on the Inc. 5000 fastest-growing companies. Our core values are driven not only by the digital marketing work that is done but reflected by each person who becomes a teammate; we volunteer in our local communities every quarter and make a difference to those around us. Named a top workplace for four years straight, ChoiceLocal is dedicated to making the lives of everyone we are involved with better.