The Perfect Instagram Marketing Strategy
By: Ben Strahsburg
The past year has been a crazy year for anyone using Instagram, from rolling out Instagram Reels to layout and algorithm changes, we can only speculate what 2021 holds for this powerhouse of a social media platform. During this crazy year for Instagram, we have learned quite a bit about the ins and outs of Instagram marketing.
In this post, we are going to dig into some of Instagram's newer features as well as give some quick tips you can use to help improve your visibility and engagement with your target audience.
Instagram Reels
Instagram is making video content a high priority on the platform; at the bottom of the screen, you can find the shortcut to Instagram Reels – taking advantage of this feature will allow you to create creative and visually engaging content for your audience.
Three Benefits to Using Instagram Reels for Businesses
Reels are a new feature that allows users to create and post up to thirty seconds of video content with music and graphics overlays – they can be a great way for business owners to show off quality content of features and benefits of their offering.
For example, if you're a wedding photographer, you might want to showcase your cinematic skills – this feature will allow you to do this without having to rely on photos or animations.
Here are three of the biggest benefits to using the Reels feature:
A Large Pool of Filters and Audio Files
Whether you are showcasing a new clothing line or creating an educational video on how to use your product/service, utilizing Instagram's database of filters and music will only enhance the viewing experience and engagement rate for your potential customers.
Higher Engagement Rate
Keeping up with Instagram's algorithm can be tricky, just like with any new product or feature the platform will do everything it can to promote the content being posted to your audience.
More Visibility on the "Explore Page"
It is crucial to establish "your niche" and stick to it, Instagram will scatter Reels throughout the explore page and the social platform will showcase your content at a more visible level to users who share the same interest.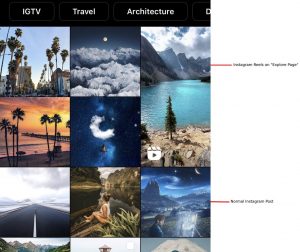 Instagram Shopping
There is nothing new to shopping for products on Instagram, but with some recent layout changes, Instagram has made a separate tab allowing users to easily access the shopping portion.
By Instagram adding this feature, it gives more visibility to businesses looking to sell on the platform, It is crucial you properly optimize your content with informative descriptions and hashtags that relate to what you are selling. BigCommerce users using the shopping feature have reported a +20% revenue increase through the platform. Learn how to set up Instagram Shopping on your account by clicking here.
How to Optimize Your Instagram Business Profile
Optimize Your Bio
Your bio should be your about section, take the time to properly fill this out and include information about your business, and tell potential followers what you do.
Use the Right Hashtags
I know this is a basic tip, but it's so important to get right. Using relevant and branded hashtags will help active users discover your content and engage with it on IG's discover page.
Add Visual Content
Instagram is an image-heavy platform, 90% of all photo content on the platform is created with images. Make sure you have a good ratio of photos to text in your bio and descriptions so that the images attract more views and Instagram followers.
Add a Link to Your Website in Your Bio
Although there may not be an Instagram-specific link feature, it's still important that the text describing your business links directly to your website and social media profiles.
Add the Contact Button to Your Profile Page
Adding the contact form button to your profile will help you be more reachable, it is the most basic step you can do to make a brand out of your personal brand and website.
Add a "Shop" Button if You're Selling Products
This is another way to make money on Instagram, if you're a business that is selling products, adding the shop button will help users find your store and engage with your content at a more personal level.
Build Out Your Highlights Section
Instagram allows you to post up to three video clips at a time in your highlights section, use this as an opportunity to have longer videos and create more engaging content.
Use Instagram Stories
Instagram Stories is a great way to connect with users on a daily basis, this tool is always changing with new features being added. But the basics of using Instagram stories are: use them as a Q&A platform, show behind-the-scenes footage, or create humor around your brand's personality.
In conclusion, Instagram has evolved into a selling/branding powerhouse over the last ten years and shouldn't be ignored. It is important to capitalize on your niche and utilize the free tools and features Instagram offers to help drive business and exposure to your brand.
It is essential in today's age to have a solid social media marketing strategy so you can reach your audience. ChoiceLocal is a leading digital marketing agency that can help local businesses reach high engagement rates through our social media marketing program. Learn more about how we can help your business grow by contact our office today at (855) 867-5622