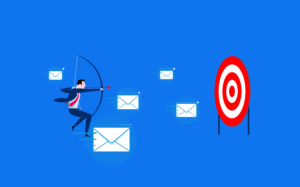 By Dan Gentsch
We are all in search of that one person who just "gets us." Some of us may have found that person already and some may still be looking but we all want someone who understands our actions and personality. When you have had a bad day at work, maybe your significant other surprises you with your favorite snack. When you just got a promotion, your significant other knows exactly the restaurant you want to go to in order to celebrate. It's a great feeling when someone just "gets us." As consumers we also what advertisements that just "get us." We want content that is specific to what we want and what actions we have taken. This is where behavioral email targeting comes in to play and why every email marketing team should be utilizing it.
What Is Behavioral Email Targeting?
Behavioral email targeting is the practice of sending automated, targeted emails to the contacts in your database based on their interactions with your company across multiple channels such as social media, email, your website and more.
Chances are, you have a computer and/or a smartphone that you receive email on each and every day. You receive email marketing from stores you've shopped at and brands that interest you. The last thing you want is an email with content that does not apply to you at all.
As an email marketer, this is where you will lose engagement and increase your unsubscribe rate. Now, possibly more than ever, it is important to deliver relevant content to your subscribers. One of the most effective ways to deliver relevant content to the right subscribers is through behavioral email targeting. While it is extremely effective, there are not many email marketers using this strategy. According to a MarketingSherpa study, 39% of marketers said that "automatically sending emails based on triggers" is the most effective tactic for improving email engagement. And yet, an Econsultancy survey which asked marketers, "Which of the following practices are a part of your email marketing efforts?" found that only 20% of email marketers use behavioral targeting.
What Do You Need?
Sending targeted emails to your subscribers based on their actions and behaviors requires an email platform capable of these more complex tasks and email marketers with the technical knowledge to make it all happen. You will need capabilities such as tracking online activity via a tracking code placed on your website and automated email campaigns that can be sent based off triggers so the right message gets to the right person at just the right time.
How To Use It
For example, let's say a particular subscriber visits a page on your website and spends a considerable amount of time consuming the information on that page. Send an email to them about that content. Let's say another subscriber only opens emails about a certain topic. Send them more emails about that topic. It's also important to not forget that a lack of action or behavior can also be leveraged to send targeted emails. If a subscriber hasn't opened your emails in a while or hasn't shopped on your online store for a while, invite them back with a targeted email. This is a fantastic strategy to wake up idle subscribers.
Behavioral email marketing is a powerful strategy for responding to critical customer moments at critical times. It creates the interaction and conversation needed in a successful email marketing campaign. Consumers want to know how we can help them instead of what we can sell to them. Show your customers and potential customers that you are paying attention. They want to see that you just "get them."
About the Author
Dan Gentsch is a Marketing Automation Leader at ChoiceLocal specializing in lead nurturing campaigns and online review generation. When not working he enjoys going on new adventures with his fiancé, coaching their two kids' sports teams and picking up heaving things and putting them back down.
References
https://www.marketingsherpa.com/article/chart/tactics-to-improve-email-engagement
Only 20% of marketers use behavioural triggers in email marketing: report