ChoiceLocal sets out to give back and help others, and in May, the Company was able to deliver big time on that. ChoiceLocal, in conjunction with Habitat for Humanity, sponsored a house for one wonderful family in the Cleveland area. Ground broke for the home last summer and ChoiceLocal, along with Cleveland Habitat, got to work.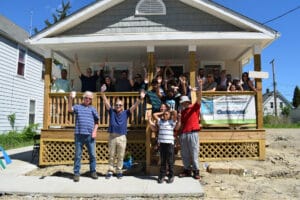 Teammates spent their time volunteering and helping build the house and worked on anything from shoveling in the foundation to hammering in nails throughout the summer months. Prior to the official move-in date, CEO Joe Soltis, his wife, Becky, ChoicLocal, and Cleveland Habitat welcomed the family home.
While this is the first time in Company history that ChoiceLocal has sponsored a home through Habitat for Humanity, it certainly will be one to remember. Congratulations to Brianne and her family!
You can read more about Brianne and her family on the Habitat homeowner spotlight blog.
About ChoiceLocal
ChoiceLocal is a franchise marketing agency that is dedicated to leading a purpose-driven business as the first and only franchise marketing agency with a money-back guarantee. This has led to successful partnerships with more than 50 franchise brands and a spot on Inc. 5000 fastest-growing companies. The core values are driven not only by the digital marketing work that is done but reflected in each person that becomes a teammate. Teammates are volunteering in their local communities every quarter and making a difference to those around them. Named a top workplace for four years straight, ChoiceLocal is dedicated to making the lives of all those it's involved with better.